The social work of MBA takes a couple of different shapes. However, all of them aim to help people to help themselves. Here are a couple of examples of that.
The main goal of the OVC program (OVC stands for Orphans and Vulnerable Children) is to support the orphans and vulnerable children of MBA with education.
School policy in Zambia states that the children must have shoes, uniforms and other necessary equipment in order to be allowed into school. This is more than many families can afford. Orphans, mentally challenged or physically handicapped children are often the ones that miss out.
What we do
What the program does is that it finds these OVC, chooses caregivers to look after these children and support them with all the necessary school requirements. The children are generally found through the MBA churches and the caregivers are usually hand picked by the local pastor for being responsible and caring enough to be a caregiver.
The caregivers are obliged to stay well informed of the childrens education, but also their family situation, health and other living conditions. Apart from the caregivers there are currently two staff workers for the program that call, visit and talk to the children to see how they are doing and provide them with books, clothes, schoolbags, school fees and other requirements.
Stats
There are currently 170 children in this program. Apart from caregivers and staff that work to make this possible, it is entirely funded by Friends of Mpongwe in the UK. This makes an enormous difference for these children.
The future
However, if you who reads this would consider donating more funds to this program, it could make a big difference. As the children age, the school fees increase and the funds are sometimes not enough to send the children to secondary school. Another challenge is that the caregivers need help with transport to their OVCs, who sometimes live far away in rural Zambia. They are provided with one bicycle per district, which, unfortunately is sometimes far from enough.
If you want to know more about the OVC program, or have any questions on how to help, please don't hesitate to contact the Director Edwin Chipelelo
Edwin Chipelelo- edwin.chipelelo@gmail.com or +260 965606500
One boy has been in the program for many years now. At first, he hardly talked and was very shy. Now, thanks to the program he could move to town to ger proper education in highschool, he looks like a different person, is very clever and a lot more outgoing than before. Now when I talk to him in Lamba on the phone he says "No no auntie, we speak English now!"
As I was interviewing one potential OVC, she started crying uncontrollably. I asked about her father and mother but she only cried. I decided to put her in the program and came back another time to check up on her. This time she spoke to me and told me that her father was dead since long and her mother was mad. When you asked where I slept or about things I had I cried because I had nothing and no place to live.
Sometimes the women start a club where they teach each other skills like knitting, building, marketing etc. Occasionally outside professionals are invited to teach.
One example is the sowing group in Mpongwe. Here a group of women meet to sow bags, uniforms, curtains or whatever else is ordered. Apart from a appreciated social meeting place, this small workshop provides some extra income to the families.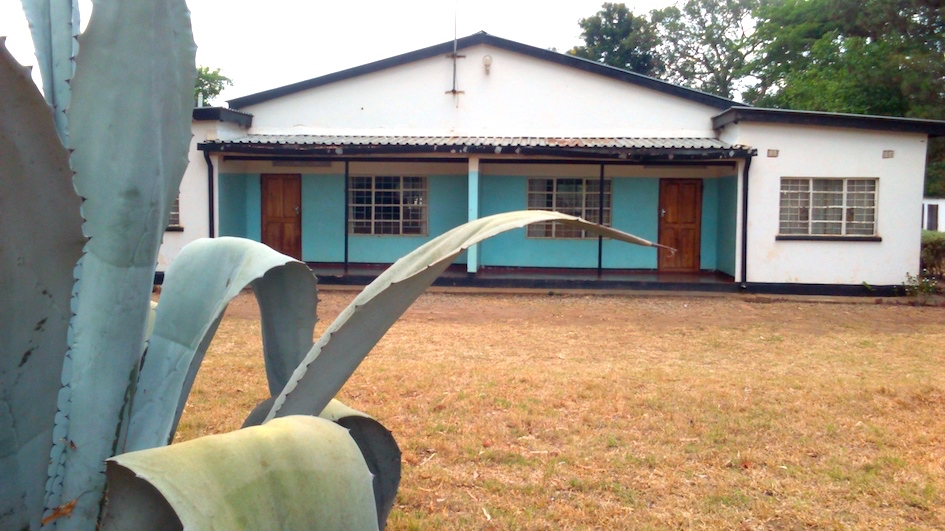 Johansson Christian Academy
The school, situated on the mission compound in Mpongwe, has great ambitions. Starting off with grades 1-4, we're hoping that in a few years we will offer education to grades 1-9.
Furthermore, the school wants to focus on educating its students in "life skills" that will help them get good jobs. That means there will be a focus on practical work, computer studies and other areas that will benefit the students in a very real sense.
Want to know more?
If you want to know more about the mission workshop and what they do, please contact Mr Edwin Chipeleo