Welcome!
MBA has Guest Houses available to volunteers, training students and visitors. We also have facilities for staff housing.
The Guest Houses – The Guest Huts, Agape Guest House, New (Blue) Guest House
| | |
| --- | --- |
| The Guest Huts, three round huts grouped together around a shared bathroom and toilet. These buildings are older but renovations have begun on the huts. They each have a kitchenette with a small eating area and bedroom. | |
| Agape Guest House, built in 2007, neighbouring to the Guest Huts. There is 1 bedroom with a double bed: The unit is self contained with toilet, shower and kitchen. | |
| The "New" (Blue) Guest House, built in 2006, two units each with three bedrooms, two beds in each room (a total of 12 beds). Each unit has its own kitchen, sitting room and bathroom. This is ideal for groups. | |
| Rotary Doctors Hut recently renovated, currently with 2 beds. There will be 4 beds. This is reserved for visiting doctors. The house is well furnished. | Photo coming! |
| A new house is planned that will allow us to better serve long term volunteer doctors. Our thanks to the partners who are making this possible. | Future photo! |
Guest houses will be stocked with these items…

– Kitchen utensils and cooking equipment- Bowls, plates, glasses, plates, silverware etc.
– Stove and oven, or a hotplate, and a Refrigerator
– Bed, Sheets, Pillows, blankets, mosquito net, towels
– Candles for power outages.  Power outages have been regular occurrences so
bring along a flashlight, wind up torch and/or a headlamp, as well as batteries.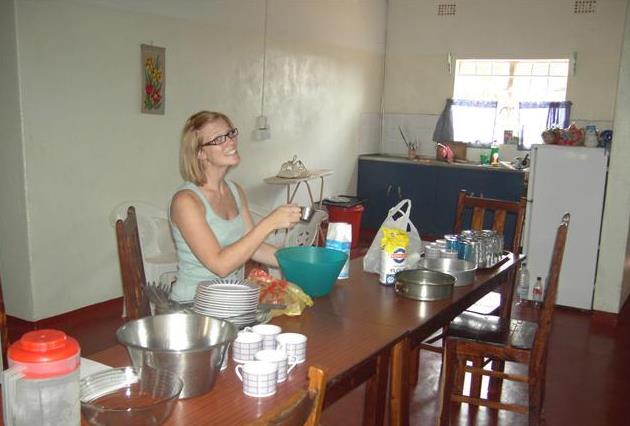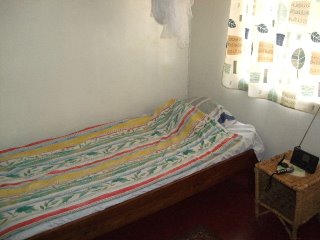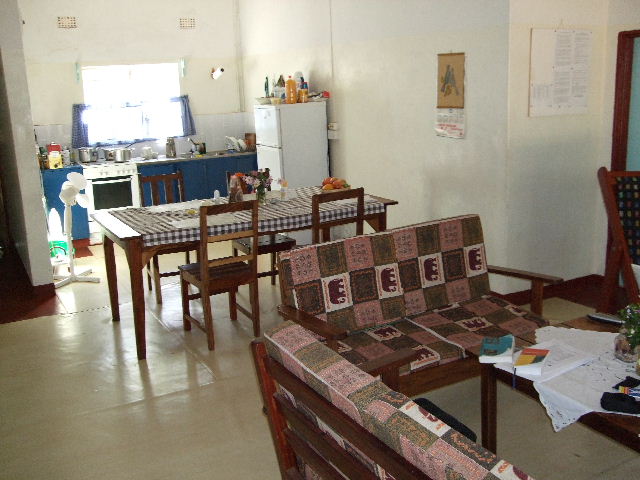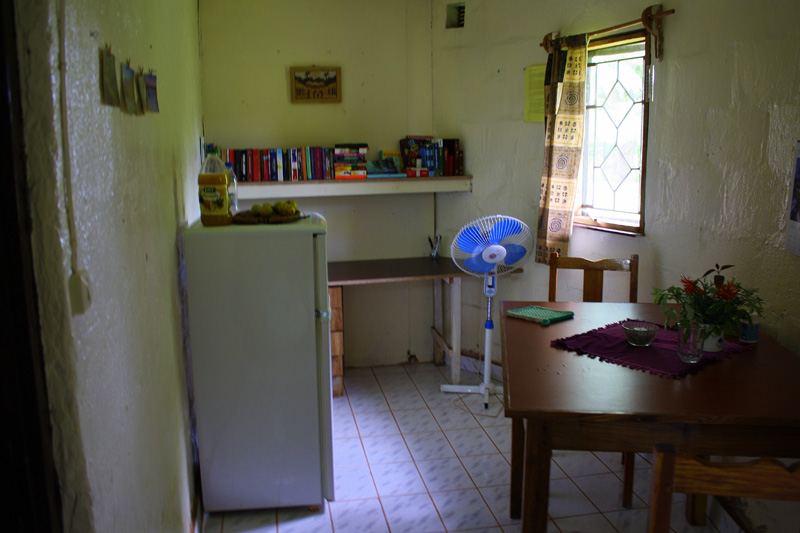 If there is something that your guest house is lacking please speak ask your host if the item is available. If the item is not available and you should wish you may purchase missing items and donate them to the house.
Your consideration is requested (rules)
In the guest house you will find a few rules posted. Examples of the rules you will be asked to respect.  Mpongwe Baptist Association is a Christian organisation and conducts its business upon Christian values. All guests are expected therefore to respect and observe a few rules, among them to refrain from smoking and drinking alcohol on the premises of the compound, dressing in a way that respects local customs and no unmarried couples sharing housing.
Security: For security reasons keep your room door locked every time you leave the guest house. Do not invite unknown people into your room.
Lights: Thank you for making sure that no lights are left on unnecessarily during the day. This is a necessary cost saving measure. Leave your outdoor lighting on as a way to increase security.
Moving of Guest House Property: No Guest House property is to be moved to any other location. If you are missing something please confirm with your host.
Accommodations Do not move to another guest house accommodation other than the one you have been allotted without prior consent from Management.
Check out time: Check out time is 10.00 am.
Payment: Payment should be made to the supervisor. All payments are to be made in the local currency, Zambian kwacha or US Dollars. Guests staying for longer periods are required to pay on each second last working day of the month.
Laundry and cleaning: The guest houses are self catering. A room attendant will clean the rooms. You may also make arrangements with her for linen changing. She/he is also ready to wash and iron personal clothing for guests at K10 000 per bundle (to be paid to MBA management).
Angela and the team of room attendants who provide guest service.
Cooking and shopping: The room attendant serves several guest house units. If you wish a room attendant who works for just your guest house, willing to do also cooking services, washing dishes and local shopping please inquire about rates and payment with your host.
Large Groups
If you are considering bringing a large volunteer group, larger than we can host, there are two guest houses in the area that we can refer you to:
Kings Highway Guest House in Masaiti (driving distance) +260-(0) 2-515 022 kingshighway@zamtel.zm, www.kingshighway.com.za.
GCMF Guest house in Mpongwe (walking distance), gcmfmpongwe@yahoo.com
More information
Rates and Practical Information to help you prepare for your visit 
Mpongwe's Charm