Frontline engagement in achieving the Millennium Development Goals 
Goal 6: COMBATING HIV/AIDS, MALARIA and other diseases  
HIV/AIDS Pandemic
HIV/AIDS destabilizes families and entire societies, leaving children without the care and support necessary to grow up, survive, and thrive. AIDS has had a devastating impact in Zambia, claiming hundred of thousands of lives (for example 96,000 in 2002, 56,000 in 2007). Death from AIDS has impacted our community in Mpongwe. We have lost many from in our churches, staff, family and friends. Funerals are a far-to-frequent occurrence in our lives. Local estimates are that 16-20% people carry the HIV virus.
There are 1.1 million people living with HIV/AIDS in Zambia (including 95.000 children under age 15). That is 15.2 % of the adult population. (2007 est.) This is a slight decline from previous years when the estimate was 16.5. Mother-to-child transmission: An estimated 560.000 pregnant women (aged 15-24) tested positive for HIV (2007).

OUR RESPONSE  – What is MMH doing?
HIV/AIDS Program, Care, Prevention, ARTs Clinic
Care
We follow internationally recommended treatment protocols. When a person is identified as reactive we work to determine the appropriate treatment. Those who are

Prevention

Community Awareness Campaigns including testing (outreach)

Counselling ongoing with all patients on behaviour and attitudes changes
Preventative measures for Mother to Child Transmission

Distributing nutritional supplements to patients with wasting
VCT program
ART clinic
We have over 700 patients in our ART program (per April 2009) receiving regular medication and support with their AIDS medicines and ongoing counseling. During 2008 we saw a sharp increase in patients coming for testing and treatment. The stigma is starting to be broken! More people get tested and more come to the ART clinic for treatment. The program will continue to expand. In addition to those currently in treatment ovef 4000 have been evaluated for whether they need treatment.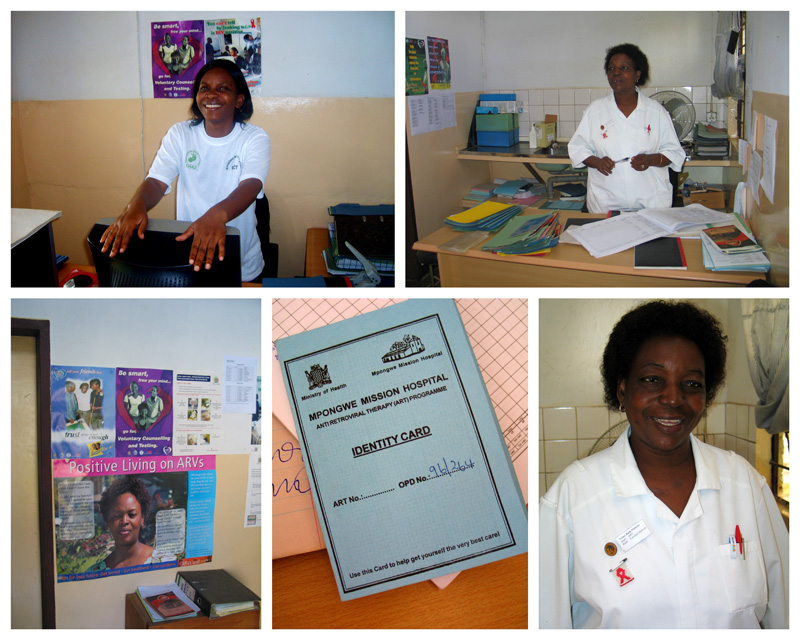 We follow internationally recommended protocalls for treatment. For patients this can mean coming for a two week review as treatment is initiated, then a 1 month review and then later every 3 or 6 months. We encourage them to come when ever they are sick before their booked appointment. If they are ill we work to identify the causes.