The Church and HIV/AIDS Training for Pastors and Church Leaders
In August 2008 MBA held training for 80 key Church Leaders and Pastors as a part of the Development Project. This five day event focused on The Church and HIV/AIDS, with training in sex and sexuality, four levels of human happiness and HIV/AIDS preventions. The training was conducted by Dr. Gunnar Holmgren – formerly doctor at MMH, Dr. Okoko – Medical Superintendent at MMH and InterAct's missionary Basil Woodhouse with experience from work with HIV/AIDS in KwaZulu-Natal. 
The participants were taught on forgiveness and servant leadership which are necessary in dealing with HIV/AIDS in local communities.  Considerable efforts went into compiling a teaching team that could communicate in a way that would overcome the hurdles that previously made this teaching impossible. Materials were obtained and distributed to attendees to enable them take the teaching background to the communities and promote discussions on HIV/AIDS prevention and care of the infected individuals and the children.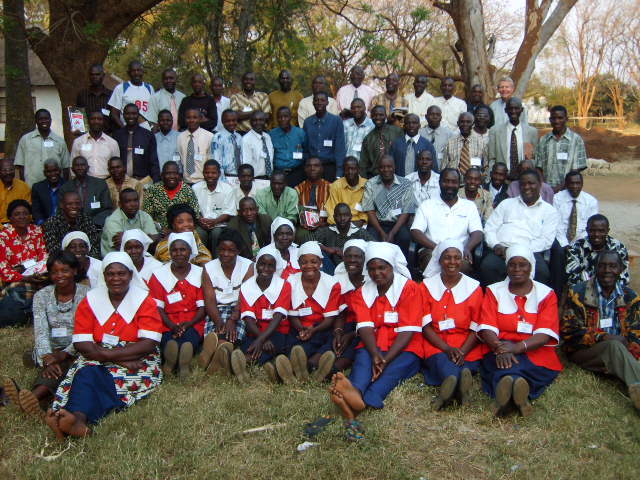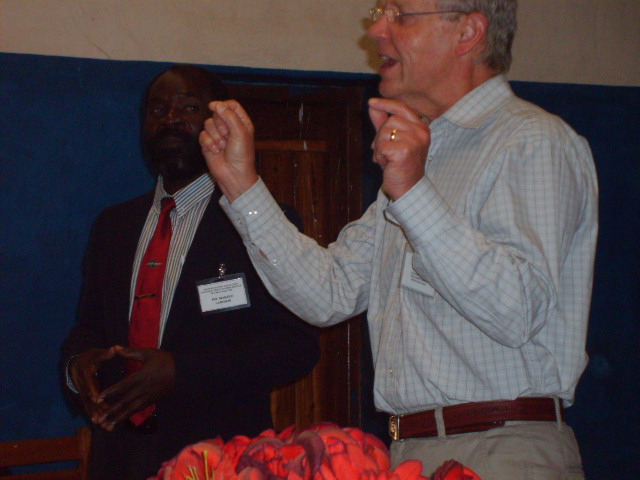 The response to the teaching was positive.  The initial stigma of discussing HIV/AIDS among the key leaders is now on the way to being broken.  Looking forward we will need to follow up the participants to see if this has extended into their communities or if we need to provide additional support or encouragement to see that the discussion of mind-set change continues. 
MBA Churches – Pastors and Leaders in Action
Ngabwe District – Home Based Care
Mrs Thabiso Mizinga, a pastor in Ngabwe District, was our speaker at the Women's Wing Conference March 2009. Mrs. Mizinga spoke on Holiness and the churches' responsibility for orphans and widows. Mrs. Mizinga and her husband together pastor 8 of MBA's churches in isolated rural areas with great poverty. Mrs. Mizinga works with youth and developing Home Based Care for HIV/AIDS in their area. She has seen the need to establish a clinic in the area and has expressed willingness to get a nursing education in order to do that. We look forward to hearing more about the developments from Ngabwe District.
Chitaba Baptist Church
     
Visiting MBA volunteers enjoy worshiping at Chitaba Baptist Church, a short drive from Mpongwe. Worshipers enjoy the choirs and the warm welcome they recieve. A short visit on Sunday doesn't give a complete picture of the work of a church which includes Church Planting and several interesting projects:
Church Planting – to Central Province Lenje Land
In 1969 church planting started by the local church Chitaba Baptist Church. Since then 27 churches have been planted in 3 districts of the Central Province.
  Mwatishi District – 10 churches
  Lapalapala District – 8 churches
  Katukwe District – 9 churches 
HIV/AIDS at the Church
As the church we have Mr Bedson Sokoloko who is a Deacon, who set up a  HIV/AIDS Support Group, of which he is Vice Chairperson. He was trained in Home Based Care by Ibenga Hospital. We now have 2 members leading this work and there are 5 support groups going. They Sensitize, give support to newly identified clients and encourage them to live positively to all people and they give advice to church members. The two leaders are members who were chosen by the Church as representatives. 
Resource Organization
The local church leadership had a burden of resource Mobilization. Each leader was paying a certain amount to the task. They approached other churches like Kabushi Baptist Church of Ndola for assistance for the church planting. Those churches responded positively to this noble appeal. As the economy was becoming bad, the Lord inspired the leaders to come up with a field project to support the growing challenges which was affecting the Local Church Chitaba.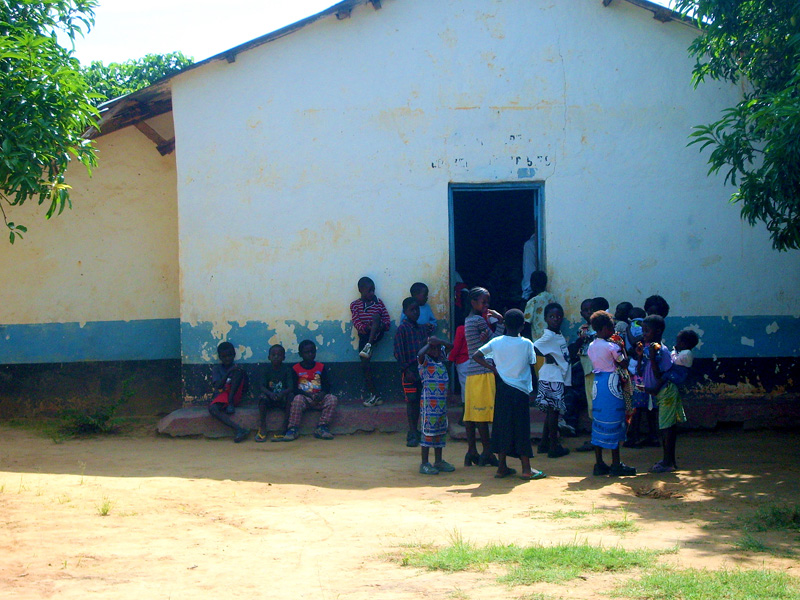 ORPHANS and Vulnerable people in our CHURCH
In 2009 we identified 54 widows and orphans in our church of 150 members.
11 Double Orphans
28 Single Orphans
15 widows 
Field Project
Due to the ever increasing needs at the local church such as O.V.C., Vulnerable and Destitute and church administration costs. It became inevitable to come up with the Church Field Project. The project is a 3 hector field where Maize is grown. Part is sold and the rest distributed. Most of the church members are practicing farming to earn a living. By so doing they came up with an Income Generation program in line with what we do as a Church. From this project we are struggling to meet these areas for all vulnerable, Orphans and Widows.  
The field project allows us to give identified people maize, but only enough to last them for 2 days/year. We feel it is just a drop in an Ocean. We also give share to support the Bulenje Churches (the churches we have planted) from the same harvest. In addition it supports Church Administration work, the pastors. However although we have this project the harvest is too little to meet the needs of the church. We feel pity especially when sharing, bearing in mind that the recipient will only benefit from that share for only two days out of 365 days a year. There are several other Orphans, Aged, Widows and Destitute in our villages who need support. But due to our resource Limitations, we are Unable to bring them in. Our field is 3 hec but we haven't been able to fully utilize it yet due to lack of resources. We utilize a government Fertilizer Support Program that gives subsidized fertilizer. Land acquisition is not a problem since land is available but resource limitations keep us from expanding the program.
Building project
The church's building is very old and structurally unsound. They have been saving for 6 years to replace it on nearby land. They have reached the point now where they will together make and burn bricks to build the new building. 
Report compiled by church Elder, Kakompe Fredrick, April 2009 
Pastors and Lay Leaders
Life of a Pastor
MBA's pastors are developing. So is this article. Check back to hear about The life of a pastor, pastors' training and more.  
Pastors and Leaders training
This section is developing. Here you will read responses from some of the pastors and youth leaders who have received  scholarships from our partners. Their training (which they couldn't afford on their own) has had a positive impact in their ministry. Check back later to read more.
Photos of MBA Pastors and Leaders