Discipleship Training Program
MBA identified a need among the churches: Lack of basic knowledge in church work and church administration. In response to the need a Training Program was developed with the goal of equipping lay leaders, (elders and members) to serve and lead their churches. Most churches are without pastors so lay leader skills are vitally needed.
Content
The training program includes teaching in the following areas:  Being God's people, Discipleship, Church Administration, The Sermon on the Mount, Counselling, Hermeneutics, Homiletics, and Farming. Farming is included both for food security but also for income generation for themselves and their churches. Evenings and weekends include time for fellowship and discussions on other subjects relevant to the church, including HIV/AIDs.
The Students
80 leaders have committed their time and gone through this training from 2004 to 2009. The leaders, who are recommended by their churches, pay a fee of 110,000 Zkw to attend. The time they commit to the training is substantial, being away from their family, homes and farms, and we are most thankful for these leaders who have answered the call to serve the Local Church. We are thankful to organisations that have made scholarship available for those who cannot afford the fee. We look forward to making the training available to additional students as scholarships are donated. We see the strategic importance of making this training available to all of the churches of MBA.

We met with a group of recent students from Mwelushi, Lwela, Chowa and Mpongwe Districts. There churches are very simple. Many have no benches or flooring, just packed dirt.
They are thirsty to learn more. They have no access to Theology literature including Concordances. If there was a lending library with access to theology books in English, or even better in Lamba it would greatly help them.
These church planters have no form of transportation, so traveling to and from their church planting outposts is difficult. Gifts of bicycles are extremely valuable to them, as well portable loudspeakers.
Time Commitment
The program which is two years in total begins with three months of training, split into 3 1-month long sessions held in April, August and September. The last week of each term involves practical training, 1 week of evangelism and church planting. The following year the students participate in evangelism and church planting 4 times during the year for two weeks at a time, going in groups of four. In this way, their churches are strengthened but also the work of the church expands.
Food! An important contribution to holding the training comes from women who cook food for the students.

Cooking for this large group is a big job and the women of MBA participate in this work, coming from near and far to commit a week at a time to preparing meals for the students.The women sleep on the floor of the church and prepare Nshima, cabbage and other dishes.  Like the students they also leave their family and homes to come serve God, a contribution that often serves students not part of the women's own church, but willingly serving the strengthening of MBA as a whole.
TEACHING TEAM
The Discipleship Training Program Teaching Team that has so generously serves the students is Pastor Langson Makule, Dr. Henry Holmgren, Amos Siyenge, Cosmos Chimbanda, Pastors Kafunga, Mutembo and others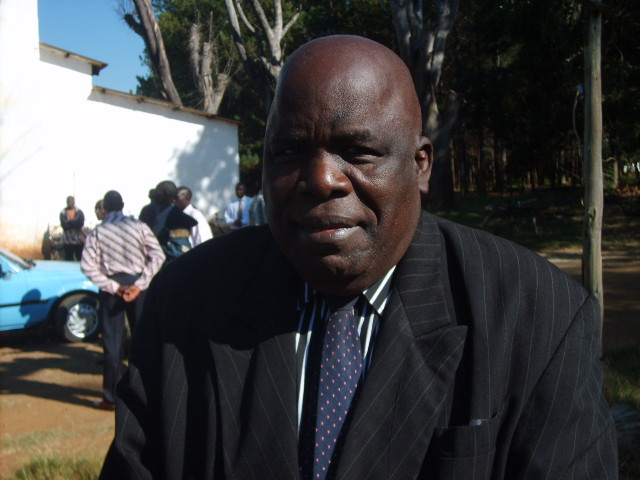 Church Planting
The number of churches in the Mpongwe Baptist Association has grown from 120 to 163 during 2004-2009. The growth was achieved through church planting. This program will continue, inspired by the Lord's commandments on making disciple.
Pastors, Discipleship Training Students and other Lay People are important contributors to the work of church planting. The work begins with evangelism. As people come to faith they are invited to gather regularly at the preaching point. By the time the congregation has grown large enough to become a church as many as 40-60% of the members are new in the faith.
The decision about where to plant churches is done in consultation with the churches of the Districts, who present their needs. MBA works to match these requests with willing pastors and discipleship students. Although we have often planted churches in areas we are already active in we are actively planning to plant churches in new areas.
Currently (2009) an action plan for church planting is being developed to expand the work in North-western Province and Lusaka Province. The initial assessment has been done and an action plan is being formulated.